Client: invesTTechie
Year: 2023
Timeframe: 6 months
Main Service: Web Design, Web Development
Return Over Investiment: 90%
WordPress Website for Client!
At Appcrux, we are committed to turning your digital dreams into reality. We take immense pride in showcasing our portfolio, which highlights our successful partnership with investtechie. Our expertise in web design and web development played a pivotal role in helping them create a strong online presence and achieve their goals in the competitive world of blogging.
Web Design: Our web design service is all about crafting visually stunning and highly functional websites that leave a lasting impression. We understand that your website is often the first point of contact with your audience, so we ensure it reflects your brand's identity, values, and vision. Our expert designers meticulously blend aesthetics and user experience to create responsive and intuitive designs that engage visitors and keep them coming back for more. Whether you need a complete website overhaul or a fresh, contemporary look, our web design service will help you stand out in the digital landscape.
Web Development: Our web development service goes beyond just building websites; it's about creating dynamic and powerful online platforms that drive results. We believe in the marriage of cutting-edge technology and seamless functionality. Our experienced developers use the latest coding languages and frameworks to construct websites that not only look great but also perform flawlessly. From e-commerce solutions to content management systems and custom web applications, our web development service ensures your digital presence is not just impressive but also efficient and secure, allowing you to focus on what you do best - connecting with your audience and growing your brand.
Conclusion:
At [Your Company Name], we specialize in creating digital experiences that captivate audiences and drive results. Our collaboration with [Blogging Brand] exemplifies our commitment to delivering exceptional web design and development solutions. If you are looking to enhance your online presence, improve user experience, and achieve your digital goals, our team is here to turn your vision into reality. Contact us today to explore how we can elevate your brand's online presence and capabilities.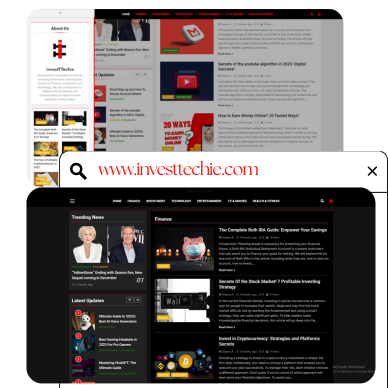 investtechie owes much of its online success to the outstanding web design and development services provided by Appcrux. They transformed our website into a user-friendly, aesthetically pleasing platform that truly represents our brand. Their technical expertise ensured that our website performs flawlessly, leading to increased engagement and trust among our readers.